Welcome to True Move, one of the best 4G mobile networks in Asia
Welcome to True Move
6GB LTE Internet
Asia Coverage
10 days Validity
Global Delivery
TRAVEL SIM ASIA... Stay connected to internet anywhere in Asia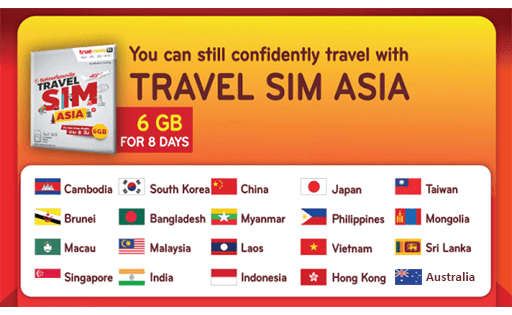 Internet Coverage in 20 countries
True Move TRAVEL SIM ASIA covers following countries:
1. Australia 2. Bangladesh 3. Brunei 4. Cambodia 5. China 6. Hong Kong 7. India 8. Indonesia 9. Japan 10. Laos 11. Macau 12. Malaysia 13. Mongolia 14. Myanmar 15. Philippines 16. Singapore 17. South Korea 18. Sri Lanka 19. Taiwan 20. Vietnam
6GB highspeed 4G internet
Enjoy unlimted internet with your True Move TRAVEL SIM ASIA. Thorughtout Asia* browse with maximum 4G speed wherever availale. Once you reach the fair usage limit of 6GB, the speed will automatically drop to 128mbps.
No More Roaming Cost
Going on vacation or business trip to Asia? With True Move TRAVEL SIM ASIA you will not have to worry about roaming charges anymore!. Browse the internet in 20 Asian countries at no extra cost guaranteed!
True Move TRAVEL SIM ASIA facts
Unbeatable price with best networks
Non-stop data at the max speed 6GB
One SIM/package covers multiple countries
Traveling to Asia?
Buy your TRAVEL SIM ASIA today
It was our first trip to Asia (Taiwan and Hong Kong). Since we were not sure about the situation at the airports and where to buy Sim Cards beforehand, we bought the asia sim card from TRUE. The internet was great and helped us right away to direct to the Airport Express and from Central station to our hotel. We preferred it to the local GPS devices in the hotel rooms as we wanted to keep using our own cells. The devices from the hotel help you too but they are a little heavy and not really handy if you have your own phone with you.
Chris Peters
Great Sim Card… We used it on our vacation to Seoul and Taichung City. Easy plug and play. Fast activation of Sim Card and reliable connection at all times. All instructions are also given in English. We contacted customer service once after via Live Chat. Nice and friendly support!!
Gregory
Any Questions?
You have a question about our product, delivery or your current order? Please feel free to contact us any time by phone, live chat or email